Welcome To Our Infusion Center
Located in the same building as your oncologist, our infusion center provides a quiet, friendly environment. A family member or friend may accompany you during your treatment. Our open room setting allows you the opportunity to interact with other patients as you relax in our Lay-Z-Boy recliners. To make your stay as comfortable as possible, we provide pillows, blankets, beverages, snacks, DVD players and a movie library.
Your Treatment
Our on-site infusion center provides the full scope of the cancer care process. Therapies provided include administration of intravenous chemotherapy, hormone therapy, hydration therapy, injectable treatments and maintenance of IV access devices. Each treatment is customized for each patient's individual condition and circumstance. Your medication and chemotherapy is prepared on-site ensuring that you receive treatment in a timely fashion. We look forward to seeing you and providing you with the best care and treatment.
Your Safety
Physicians are on-site and available at all times. We have immediate access to emergency care when needed. Through the use of IV infusion pumps patients are assured that their infusion is controlled and safe.
Coordination of care is provided in conjunction with other physician practices, diagnostic facilities, and palliative care professionals. The Katz Cancer Resource Center works closely with our practice to provide on-going education and support to patients and family members.
Our Nurses
Our center is staffed by intravenous certified registered nurses who specialize in chemotherapy preparation and drug administration. Our nurses provide quality, compassionate care tailored to meet your needs. They are here to assist and support you throughout the treatment process.

Mia Thorn, RN, OCN graduated from Cabrillo College's nursing program in 2011.
Mia grew up in Santa Cruz with her mom and older brother, and worked at El Palomar Restaurant for 13 years. In that time a great friend was diagnosed with brain cancer and during her friend's treatment suggested to Mia that she become a nurse. After careful thought Mia decided nursing would suit her perfectly and proceeded to get her nursing degree. Central Coast Oncology & Hematology is where Mia's friend was treated, and is where Mia found her love for nursing and cancer care.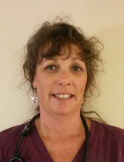 Deborah Carter, RN, BSN graduated from Hartnell College with an Associate Degree in Nursing in 1995 and San Jose State University with her Bachelor Degree in Science of Nursing in 1997.
Deborah began her nursing career at Salinas Valley Memorial Hospital inpatient Oncology and then went on to work inpatient Hematology, Medical-Surgical, Step-Down Telemetry, and Pediatrics on the East Coast. Taking time off from nursing to travel with her family Deborah has now returned to Oncology where her career began.
Hilary Briscoe, RN, OCN graduated from Cabrillo College School of Nursing in 2010.
Hilary is from Zimbabwe, Africa and has lived in many countries and parts of the United States. She has been in Santa Cruz since 1998. Hilary decided to go to Nursing School after the experience of her Dad going through brain cancer and witnessing the incredible care the Oncology and Hospice nurses gave her father. She has been a part of CCOH's infusion center team since October, 2013 after previously working in inpatient oncology. Hilary is chemotherapy certified, Oncology certified and holds an undergraduate degree in Psychology from the University of Missouri-Columbia. Her favorite thing in the world to do is surfing.